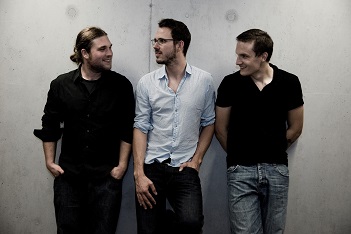 Sun, 20.01.2019, Jazzbrunch, 11:00

AM

 — 02:00

PM
Bring­ing it into the right rhythm with time­less clas­sics by George Gersh­win, Frank Sina­tra, Nat Cole or Louis Arm­strong. The trio spe­cially invites the Berlin excep­tional sax­o­phon­ist Markus Ehrlich for this event.
With "our favorite songs", "Seng – Kuehn – Jentzen" bring their homage to the "golden era of song­writ­ing" on the stage. The audi­ence can expect some of the finest songs of the 20th cen­tury – time­less clas­sics from the pens of George Gersh­win, Cole Porter, Johnny Mer­cer or Rogers & Hart. The trio plays as fresh and as dusty as if you were in the mid­dle of it all, hon­est and hand­made – with a lot of com­mu­ni­ca­tion and above all swing!
Manuel Seng – Piano
Mau­rice Kuehn – dou­ble bass & vocals
Max Jentzen – drums
Markus Ehrlich – sax­o­phone
35,00 € p.P. for buf­fet, live music, water, cof­fee and fresh juices