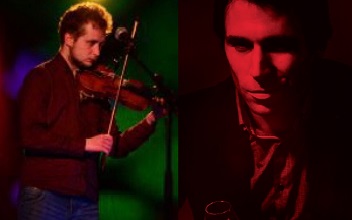 Sun­day, 01.12.19, 06:00 pm
Two unique tal­ents com­bine as one act and arrive in Mainz to per­form thought-​​provoking, evoca­tive, orig­i­nal songs in a won­der­fully inti­mate set­ting. Simon Kempston's beau­ti­fully crafted folk-​​tinged mate­r­ial show­cases his incred­i­ble, dis­tinc­tive and intri­cate fin­ger­style gui­tar work – an excit­ing blend of the folk-​​baroque, blues and clas­si­cal styles, and his gen­tly nuanced, com­pelling tenor vocals. An inspir­ing, poetic lyri­cist, Simon's live per­for­mances are intense and impas­sioned, the sub­ject mat­ter chiefly Scot­tish, yet with uni­ver­sal appeal. This spe­cial first-​​time Mainz con­cert in con­junc­tion with lead­ing Scot­tish fid­dle player, 2017 Niel Gow Inter­na­tional Fid­dle Award Win­ner & BBC Young Trad Musi­cian Final­ist of the year Rob­bie Greig is not to be missed. 'One of Scotland's very best singer-​​songwriters' (Sun­day Her­ald). 'Stun­ning tal­ent' (STV).
Beau­ti­ful tunes, infi­nitely tal­ented' (BBC Radio 3).
www​.simonkemp​ston​.co​.uk
www​.rob​biegreigfid​dle​.com
35,00 € p.P. for music and buf­fet, exclud­ing drinks